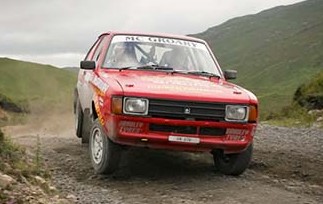 With just over a week to go to the Donegal Forest Stages Rally, things are moving along closer to ensure the First Car will be leaving the Parc Ferme in Donegal Town at 09:30 on Saturday May 13th.
Preparations are being finalised to make sure that the Event will be a success this year. The stages are in fantastic condition, with the opening test at Lough Sallagh a tough start to any rally.
Next up is the short blast through Meencarrigh which will prove to be a test were any second lost could prove costly. The third stage, Croaghonagh, is fast and furious from the word go.
The crews will then visit the Pier in Donegal Town for a much needed service before heading back through the Gap to tackle the previous three stages again before returning to Donegal for service again, and a chance for spectators to get up close to the cars and drivers themselves.
After the short rest in Donegal the crews then head to tackle the Tullynacarry Stage twice. This stage could prove to be the sting in the tail for many with 17kms of flawing gravel roads mixed in with tarmac, just to make it even harder for the crews. Then it is back to the Diamond in Donegal Town for the ceremonial finish outside the Abby Hotel.
COC of the event Johnny Baird said " The Rally is really generating interest in the area, all we need now is sunshine".
He has also urged Spectators to obey the Marshall's and Officials . "Its really important that the Spectators get to the Stages early and obey the Marshall's for the Safe running of the event".
The Valvoline Championship at the minute is being led by Josh Moffett followed by brother Sam with last years champion Desi Henry in third overall in a Skoda Fabia R5 close on his heels.
Press Launch for the Rally will take place on Monday the 8th May in the Abbey Hotel at 7:30pm all are welcome to attend.