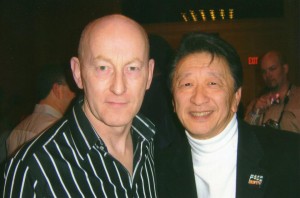 Well known Donegal man Josie Murray will be honoured by the Glenties Municipal District of Donegal County Council at a special reception in Dungloe Public Services on Tuesday next 9 May 2017.
This special reception, which will be hosted by Cathaoirleach Cllr. Terence Slowey, is being held in recognition of Josie's outstanding achievements in Martial Arts and the contribution he has made to Martial Arts in Donegal, in Ireland and at an international level.
Cathaoirleach Cllr. Terence Slowey is delighted to be in a position to bestow this honour on Josie Murray saying that "it will be a pleasure to host this special reception to honour Josie's outstanding achievements. Josie, who is originally from Keadue, Burtonport, has represented Donegal and Ireland at the highest level in his sport and has win 9 World Gold Medals, 4 Silver Medals and 1 Bronze medal in Rio de Janeiro, Brazil from 2001 to 2016".
Josie started his Jiu-Jitsu training in Burtonport with Josie Kyles in Atemi
Jiu-Jitsu. Josie then went to England and trained with the British Jiu-Jitsu Governing Body and quickly received his First Dan Black Belt under Richard Morris 10th Dan.
Josie founded the Donegal Jiu-Jitsu Federation and Donegal Cobra Kai Kickboxing Club. The first Irish Cup was held 20 years ago and Josie has won it 5 times.
Josie runs his own club in Letterkenny and Derry and also teaches children with autism and other disabilities and raises funds for many charities. Many students and teachers from all around the world come to train with Josie every year. Josie travels all over Ireland, Europe and America to give seminars and teaches his own style of Jiu-Jitsu called Empty Force Jiu-Jitsu.
Josie is known all over the world for his dedication to his Art and has appeared on the front cover of 7 Martial Arts magazines and was Top Teacher within the United Nations of Jiu-Jitsu for 16 years. He has won the Donegal Sport Star Awards 3 times and was the first Donegal man to be inducted into the 14th Annual USA International Black Belt Hall of Fame.
Josie also starred in a movie in L.A. California "Kill Factor" with Director Leo Fong, student and personal friend of Bruce Lee.
This Special Reception will take place at 4pm in Dungloe Public Service Centre on Tuesday 9 May 2017.