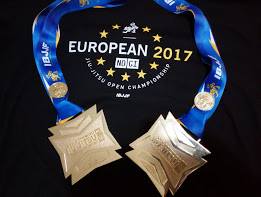 Convoy Native, TJ McMenamin won double European gold medals in Jiu Jitsu, at the recent 2017 European IBJJF NO-GI championships at the PalaPellicone sports staduim in Rome, Italy.
Last weekend, McMenamin took part in the Masters IV Blue Belt Division at Medium Heavy weight, and secured victory over an Italian & Slovak fighters to lift his first European Gold of the year.
Later in the evening he took part in the Open Weight competition, and secured victory in very close final, by a point decision, over a tough Greek fighter. He previously fought & defeated a Spanish & another Greek fighter in the earlier rounds.
TJ, also won another gold medal, in the IBJJF Rome International Open Championship, where he fought in the Masters blue belt GI competition on Friday the 31st March, held at the same premises.
He won Gold in his weight division and later took part in the open weight division, where he unfortunately lost out to a Russian fighter in a straight final, by a close points score. He won six out of seven fights in total over the course of the weekend.
The Donegal fighter is no stranger to European success, and also won Double Gold at last year's event, and was determined to defend his European titles.
He was nominated for his successes last year for Martial Arts in the Donegal Sports Star awards, and is looking forward to defending his numerous International and National titles over the forthcoming year.
TJ is an experienced veteran International competitor, and has won over the last two years, many local, National, & International Prestigious Competitions including now, Six European medals, four golds & two bronze medals..