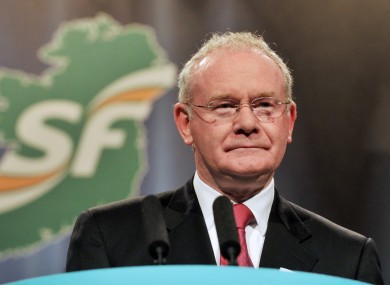 Tributes continue to be paid to Martin Mc Guinness, the former Northern Ireland Deputy First Minister, who died overnight in Derry.
The Taoiseach says he's deeply saddened at today's news - he says Martin McGuinness's passing represents a significant loss, not only to politics in Northern Ireland but to the wider political landscape on this island and beyond.
Former Taoiseach Bertie Ahern says Mr Mc Guinness's decision to leave the IRA and commit himself to peace was a brave one.............
Former TD Martin Mansergh was part of the Fianna Fail team who worked with Martin McGuinness in the run up to the Good Friday Agreement - He says very few people could have forged what turned out to be a warm relationship between Mr Mc Guinness and the then DUP leader Ian Paisley.........
Paying tribute this morning, Donegal Senator Padraig Mac Lochlainn said Martin Mc Guinness was Ireland's Nelson Mandela, a man who led by example and was intensele committed to peace.
Senator Mac Lochlainn says Mr Mc Guinness also had a deep love of and commitment to Derry and Donegal............