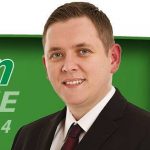 A Donegal County Councillor is warning residents in Ballindrait to be vigilant following reports of three men acting suspiciously in the area.
It's understood that the group attempted to open the gates and doors of a house in the Tober area while attempts were also made to gain entry to a garage on the property on Tuesday evening.
The owner of the house heard the commotion and as he confronted them, the men walked away towards a waiting car which then sped away.
Councillor Gary Doherty says its a worrying development...............