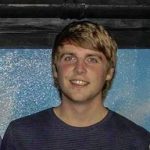 The father of missing Jack Glenn has urged the people of the North West not to forget about his son.
The 23 year old entered the River Foyle two weeks ago tomorrow, sparking a major search effort by emergency services and the wider Derry community.
Last week Jacks Grandfather Jack Snr. spoke of how the tragedy united the people of Derry like nothing he had ever seen before.
Speaking on today's Shaun Doherty Show, Jacks father Colin also appealed to any boat owners in the North West to assist them in their search: