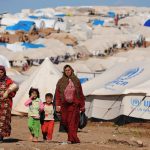 It's been revealed that thirty families of refugees are expected to resettle in Donegal by the end of 2018, with the first 12 families arriving in May this year.
The Office for the Promotion of Migrant Integration has been engaging with Donegal County Council with a view to facilitating the resettlement of families under the Refugee Resettlement Programme in Donegal.
The first group of families under the programme will be housed in Buncrana and Carndonagh.
Local Councillor Bernard McGuinness says it's important for Inishowen and the county to have a role in the initiative:
The Office for the Promotion of Migrant Integration (OPMI) has been liaising with relevant public bodies to make arrangements for provision of relevant services to the new arrivals in an appropriate and timely manner and Donegal County Council has been engaging with the OPMI.
A local Resettlement Inter-Agency Steering Group, comprised of representatives from relevant public service providers that will oversee the local resettlement and integration programme within the county, has been established.
The focus of the Steering Group will be to develop a co-ordinated and efficient programme to make the transition and integration as easy as possible.
While the first group of twelve families are expected to arrive in the county in late May it is not clear when the next group will be arriving but it is likely to be late 2017 or early in 2018. Decisions in relation to where they will be settled will be considered by the Steering Group as details of the circumstances and needs of the group become available.