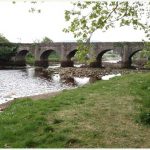 It's been confirmed that contracts for the construction of Cockhill Bridge have been signed with work due to start within weeks.
The overall €3 million project will see the construction of the new bridge on the outskirts of Buncrana as well as new approach roads to the crossing.
Wills Brothers Civil Engineering Contractors have been awarded the contract for the construction of the bridge after a tendering process.
Councillor John Ryan says this time next year should see the bridge completed:
Councillor Bernard McGuinness says the new bridge will provide improved accessibility for the growing tourism numbers to the area: