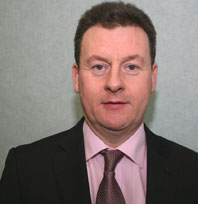 The Chief Executive of Donegal County Council says there is scope for up to 15,000 more people to be employed in Donegal by 2030, despite the risks posed by Brexit.
Seamus Neeley says the council's decision to develop partnerships with Derry City and Strabane District Council and other bodies has been a success, and a new report shows that the potential for growth in Donegal after Brexit remains strong.
He says the discussions which are taking place now pave the way for growth in the future.......

Meanwhile, the potential implications of Brexit on human rights under the Good Friday Agreement will be discussed today at an all-island dialogue at Maynooth University.
100 representatives from civil society across the island are taking part at the event, which has been convened by Foreign Affairs Minister Charlie Flanagan.
It follows remarks made by former Taoiseach Bertie Ahern over the weekend about the dangers of a Brexit border between Northern Ireland and the Republic.
Mr Ahern expressed concern that a physical border in any shape could destabilise the peace process.