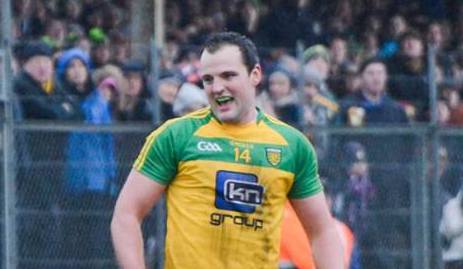 Final Score: Roscommon 2-09 - 0-16 Donegal
Donegal sealed victory deep into injury time through Eoin McHugh to claim their first points of the National Football League.
A thrilling encounter in Dr Hyde Park, but a well earned victory over Roscommon for Rory Gallagher's men.
Donegal started the match brightly and went a point up through captain Michael Murphy in the first minute, this was doubled by Ciaran Thompson two minutes later.
It took Rory Gallagher's men nine minutes to register another score, when Patrick McBrearty put over a free kick to put Donegal two points clear.
Complacency was the away side's downfall again this week, allowing Roscommon's Enda Smith to level the game with two points.
Allianz Football League: Roscommon Goal from play.
[1st Half 22:01]
Donegal 0-04(4)
Roscommon 1-04(7)

— Official Donegal GAA (@officialdonegal) February 12, 2017
Ciaran Murta then put the Rossies into the lead when a poor kick-out from Mark Anthony McGinley was intercepted and Murta bounced the ball off the post and into the net.
From here, Donegal threatened to bounce back with scores coming from Michael Carroll and Eoin McHugh- but, Roscommon were able to maintain their goal advantage to bring the game into halftime with the scoreline standing at 0-07 - 1-07.
If complacency was the enemy in the first half, it simply was not the case in the second half with Donegal mounting a comeback.
Eoghan Ban Gallagher started off the scoring two minutes in and Patrick McBrearty again got on the score sheet, this time from play.
The pressure on the Roscommon defence almost paid dividends when Martin O'Reilly found himself on for a goal, but the Rossies recovered well to prevent the ball going in the net.
After fifteen minutes O'Reilly put the game within one point and straight from the kick out they were level.
And, for the first time since the first half, Eoin McHugh put Donegal ahead by a point.
Allianz Football League: Donegal Point from play. Eoin McHugh
[2nd Half 15:13]
Donegal 0-13(13)
Roscommon 1-09(12)

— Official Donegal GAA (@officialdonegal) February 12, 2017
With Donegal three points ahead with ten minutes to go Donegal looked to kill off the game, but, Roscommon were fired right back in it with a second goal.
Both team's pushed hard for the win, and Roscommon almost sealed it with a goal but McGinley pulled off a great save.
But, deep into injury time Donegal won it through a pivitol score from Eoin McHugh.
Full Time Score here its Donegal 0.16 Roscommon 2.09

— Official Donegal GAA (@officialdonegal) February 12, 2017