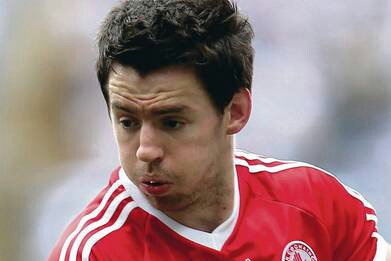 Tyrone play Dublin in Croke Park on Saturday night and will go into this game without the experienced Mattie Donnelly.
He hasn't been included in the match day squad after suffering a bang to the head during last weekend's league victory over Roscommon.
Once again, there are several changes in the Tyrone team - Peter Harte reverts to centre-back from half forward; Padraig McNulty returns from injury and Niall Morgan is named in goal in place of Mickey O'Neill.
Tyrone team to play Dublin, -Senior Appearances in brackets
1 - Niall Morgan - Éadan na dTorc (56)
2 - Pádraig Hampsey - Oileán a'Ghuail (14)
3 - Ronan McNamee - Achadh Uí Aráin (57)
4 - Cathal McCarron - An Droim Mór (92)
5 - Tiernan McCann - Coill an Chlochair (48)
6 - Peter Harte - Aireagal Chiaráin (110)
7 - Jonathan Monroe - An Charraig Mhór (16)
8 - Colm Cavanagh - An Mhaigh (128)
9 - Padraig McNulty - Dún Geanainn (35)
10 - Conor Meyler - An Omaigh (16)
11 - Niall Sludden - An Droim Mhór (23)
12 - Declan McClure - Cluain Eo (6)
13 - Darren McCurry - Éadan na dTorc (67)
14 - Cathal McShane - E. R. Uí Néill (22)
15 - Ronan O'Neill - An Omaigh (60)
16 - Mickey O'Neill - Cluain Eo (21)
17 - Mark Bradley - Coill an Chlochair (28)
18 - Lee Brennan - Trí Leac (12)
19 - Rory Brennan - Trí Leac (21)
20 - Sean Cavanagh - An Mhaigh (228)
21 - Conal McCann - Coill an Chlochair (22)
22 - Aidan McCrory - Aireagal Chiaráin (89)
23 - Cahir McCullagh - An Caisleán Glas (6)
24 - Hugh Pat McGeary - Cabhán a'Chaortainn (8)
25 - Justin McMahon - An Omaigh (104)
26 - David Mulgrew - Ard Bó (3)
27 - Frank Burns - Cabhán a'Chaortainn (1)
28 - Ronan McHugh - Achadh Uí Aráin (5)