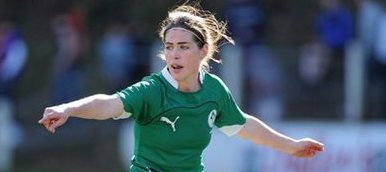 Nora Stapleton will start for Ireland in their Women's Six Nations opener this Friday evening against Scotland.
The Fahan native has been named at out half for the fixture in Glasgow.
Stapleton is currently the only player from the Donegal on Ireland panel.
Cappry's Larissa Muldoon and Moville's Katie Norris featured last year.
Leinster's Ailsa Hughes is the only debut while four of the replacements are also in lined to be capped for the first time - front-row trio Jennie Finlay, Ilse Van Staden, Ciara O'Connor and Eimear Considine.
Paula Fitzpatrick will captain the side in absence of Niamh Briggs, who is continuing her rehab from injury.