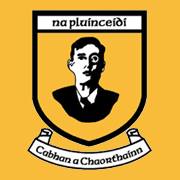 Pomeroy Plunketts lost out to St Colmcille's  in the All-Ireland Intermediate semi-final in the Athletics Grounds, today.
A slow start from the Tyrone outfit saw them fall behind and the game looked to be quickly getting away from them with a halftime scoreline of 1-07-0-05 in favour of St Colmcille's.
Again in the second half, Plunketts were caught sleeping and conceded a second goal to fall six point behind.
But a goal from the penalty spot signaled a comeback for Pomeroy and  another  goal followed minutes later.
However, it was not to be in the end with St Colmcille's holding strong and found the back of the net to secure the win.
After the game, Pomeroy captain, Hugh McGreary said he was disappointed not to make the final...