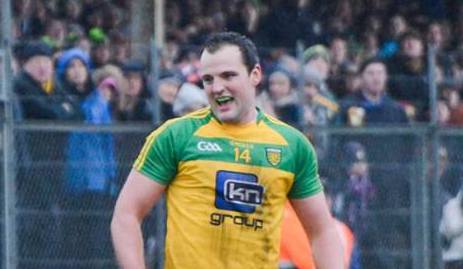 Michael Murphy hit 1-4 yesterday as Donegal recorded a 2-16 - 2-5 victory over Meath in a challenge friendly match.
It was a mix of young and experienced players that took the field as Rory Gallagher's men continue to prepare for the season ahead.
With the first Allianz league game against Kerry fast approaching, the transitional period has continued with several of Donegal's young guns fighting for a place in the first team including Eoghan Ban Gallagher, Jason McGee and Michael Langan all starting the game.
It was Donegal captain, Michael Murphy that got the largest share of the scores, grabbing 1-4, with Jamie Brennan hitting 1-2, Michael Langan 0-2, Conor Gibbons 0-4 and Ryan McHugh 0-3- substitutes Mark McHugh and Darren McGeever also got on the score sheet.
Donegal: Mark Anthony McGinley, Conor Morrison, Neil McGee, Eoghan Ban Gallagher; Caolan Ward, Ryan McHugh (0-3), Ethan O'Donnell; Jason McGee, Hugh McFadden; Ciaran Thompson, Michael Langan (0-2), Conor Gibbons (0-4); Jamie Brennan (1-2), M Murphy (1-4,1pen).
Subs: Cian Mulligan, Eamonn McGrath, Paul Brennan, Mark McHugh (0-1), Darren McGeever (0-1)