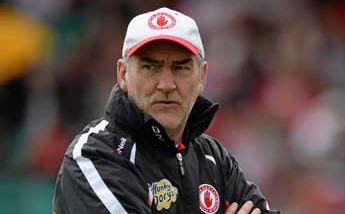 After a strong victory over a young Donegal side, Tyrone now ready themselves for a semi-final clash with Fermanagh tomorrow.
Tyrone have made eight changes ahead of the game with Ronan McNabb and Lee Brennan returning to the side. And, after a return from college duty, Mark Bradley and Conor Meyler return to the squad.
Tom Comack spoke to former Tyrone defender, John Lynch who, despite Tyrone's strong campaign thus far, felt his county were stronger in last year's competition...
Tyrone Line-up
1 - Mickey O'Neill - Cluain Eo
2 - Aidan McCrory - Aireagal Chiaráin
3 - Ronan McNamee - Achadh Uí Aráin
4 - Cathal McCarron - An Droim Mór
5 - Ronan McNabb - An Droim Mhór
6 - Tiernan McCann - Coill an Chlochair
7 - Peter Harte - Aireagal Chiaráin
8 - Colm Cavanagh - An Mhaigh
9 - Padraig McNulty - Dún Geanainn
10 - Declan McClure - Cluain Eo
11 - Niall Sludden - An Droim Mhór
12 - Niall McKenna - Domhnach Mór
13 - Darren McCurry - Éadan na dTorc
14 - Cathal McShane - E. R. Uí Néill
15 - Lee Brennan - Trí Leac
16 - Niall Morgan - Éadan na dTorc
17 - Mark Bradley - Coill an Chlochair
18 - Sean Cavanagh - An Mhaigh
19 - Matthew Donnelly - Trí Leac
20 - Pádraig Hampsey - Oileán a'Ghuail
21 - Cahir McCullagh - An Caisleán Glas
22 - Ronan McHugh - Achadh Uí Aráin
23 - Justin McMahon - An Omaigh
24 - Conor Meyler - An Omaigh
25 - Jonathan Monroe - An Charraig Mhór
26 - Ronan O'Neill - An Omaigh