The Chairperson of the Donegal Joint Policing Committee Cllr Gerry McMonagle has hit out at both Fine Gael and Fianna Fáil over what he says are the dramatic cuts made to Garda numbers in Donegal between 2008 and 2016.
Over that period, Cllr Mc Monagle says the garda numbers in the county were slashed from 488 in 2008 down to 384 in 2016 – a reduction of 104.
Cllr McMonagle has published the figures, which were received on foot of a Dail question tabled by Deputy Pearse Doherty.
He says not alone has the number of Gardaí in Donegal been cut by over 20% from their peak over eight years ago, but the county has also witnessed the loss of an entire Garda operational district following the closure of the Glenties Garda district back in 2012.
Cllr Mc Monagle says while the data reflects the decision making of Fianna Fáil and Fine Gael in Government as well as what he termed the scant regard which both parties have for this county and the safety of its people.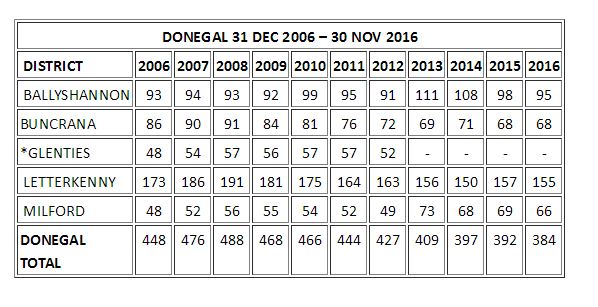 * The Glenties Garda District was scrapped in 2013
Minister Frances Fitzgerald's response -
As the Deputy will appreciate, the Garda Commissioner is responsible for the distribution of resources, including personnel, among the various Garda Divisions and I, as Minister, have no direct role in the matter. Garda management keeps this distribution of resources under continual review in the context of crime trends and policing priorities so as to ensure that the optimum use is made of these resources.
As the Deputy will be aware, when the financial crisis hit, the Government of the time introduced a moratorium on recruitment. Thankfully, in a recovering economy, we were able to reopen the Garda College in September 2014 and the current Government is committed to steadily increasing Garda numbers. This Government is committed to ensuring a strong and visible police presence throughout the country in order to maintain and strengthen community engagement, provide reassurance to citizens and deter crime.
To make this a reality for all the Government has in place a plan to achieve an overall Garda workforce of 21,000 personnel by 2021 comprising 15,000 Garda members, 2,000 Reserve members and 4,000 civilians. In 2017, funding has been provided for the recruitment of 800 Garda recruits and up to 500 civilians to support the wide ranging reform plan in train in An Garda Síochána. Appointments will also be made to the Garda Reserve of approximately 300.