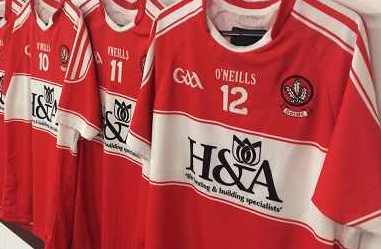 Derry have named their team for Sunday's Dr. McKenna Cup trip to play Down.
Both teams opened their Section A campaigns with victories last weekend - Derry enjoying a one-point win over Armagh
And once again, team manager, Damien Barton has made several changes to his team with Thomas Mallon, Ronan Murphy, Conor McGrogan and Conor Nevin all handed starts and Steelstown's Neil Forester named captain.
Francis Mooney will have live regular updates from the game at Pairc Esler this Sunday afternoon on Highland.
1. Ben McKinless – Beircheart Mac Fionn-laidh – Baile an Doire
2. Oisin Hegarty – Oisín Ó hÉigeartaigh – An Gleann
3. Oisin Duffin – Oisín Ó Duifinn – Baile an Doire
4. Peter Hagan – Peadar Ó hÁgáin – Beannchar
5. Patrick Coney – Padraig Ó Cuana – An Lub
6. Jack Doherty – Seac Ó Dochairtaigh – An Gleann
7. Neil Forester – Néill Fuireastar – Baile an Stil
8. Gavin O'Neill – Gabhann Ó Néill – Beannchar
9. Aidan McLaughlin – Aodhán Mac Lochlainn – Carraig Bhan
10. Michael Warnock – Miceál Giolla Mhearnóg – An Gleann
11. Niall Loughlin – Naíll Mac Lochlainn – Grianloch
12. Carlus McWilliams – Carlus Mac Uilliam – Baile na Scrine
13. Ryan Bell – Rian Mac Giolla Mhaoil – Baile an Doire
14. Emmett McGuckin – Eiméid Mag Eochain – Machaire Foilta
15. Benny Heron – Breandán ÓhEarain – Baile na Scrine
16. Thomas Mallon – Tomás Ó Maoilaoin – An Lub
17. Patrick Kearney – Padraig Mac Cearnaigh – Suaitreach
18. Enda Lynn – Éanna Ó Loinn – Grianloch
19. Conor Nevin – Conchúr Mac Cnáimhín – Baile an Doire
20. Mark Lynch – Marchas Ó Liongsigh – Beannchar
21. Conor McGrogan – Conchúr Mac Gruagáin – Droichead Nua
22. Ronan Murphy – Rónán Ó Murchu – Baile na Scrine
23. Mark Craig – Marchas Craig – Dún Geimhin
24. Ciaran Mullan – Ciarain Ó Maoláin – Eoghan Rua
25. Fergal Higgins – Fearghal Ó hUiginn – Dun Geimhin
26. Conor McLarnon – Conchúr Mac Giolla Earnáin – Machaire Fiolta