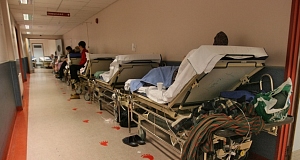 The Health Minister is to meet the HSE today to discuss the new record level of people awaiting beds at hospitals around the country.
The daily count hit 612 yesterday, 33 of them at Letterkenny University Hospital and Simon Harris will meet management in the health service for a further update later.
Meanwhile, it's been confirmed that the full capacity protocol at Letterkenny University Hospital was deployed over 100 times last year.
By late December, the protocol had been initiated on 103 occasions.
The figures were released in response to a parliamentary question from Senator Padraig Mac Lochlainn......