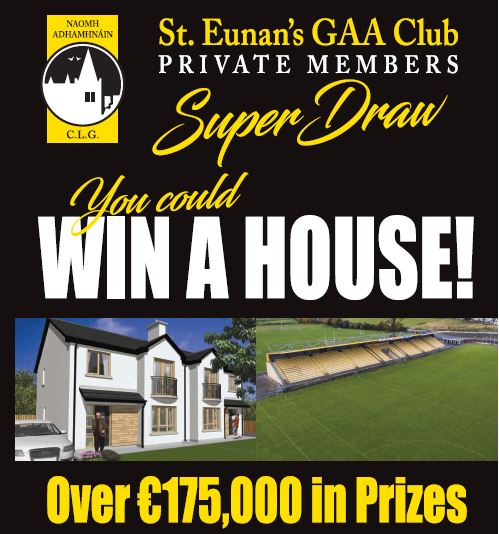 St. Eunan's GAA Club recently announced details of the Super House Draw 2017 . With a total of ten prizes, valued at almost €200,000, the winning prize is a house in Rann Mór, Letterkenny worth €155,000.
The fundraiser hopes to raise some much needed funds to further develop the facilities at O'Donnell Park and install a 4G Astroturf. Tickets cost €100 each and the launch of the draw comes just in time to make the perfect gift for Christmas.
Ciaran Haran, Draw Co-ordinator, believes that the development of the grounds in O'Donnell Park will benefit the wider Letterkenny and Donegal GAA communities:
"Over the last 20 years, St. Eunan's GAA Club has continued to develop O'Donnell Park into a top-class facility capable of hosting inter-county games as well as hosting several county finals across football, hurling and camogie. We are aware that this project is a massive undertaking and are calling on all the people of Letterkenny and our friends in other GAA clubs across Donegal, Ulster and Ireland to support our fundraising efforts."
The cost to develop the area with a flood-lit 4G Astroturf pitch is approximately €200,000 and the club were awarded a €80,000 grant by Donegal County Council, which they much match to draw down the funds.
"This new facility will be used almost exclusively by younger members of the club to play football, hurling and camogie. The flood lights will allow them to train during the winter evenings and it'll also be available to schools in the area," he said.
This is the first time in ten years that the club ran a house draw and a number of tickets have already been purchased online.
"Tickets cost €100 each and can be purchased from most club members and at outlets throughout Letterkenny including: The Mount Errigal Hotel; Blake's Bar; The Brewery Bar and Macs Mace. We'd also love to hear from other retailers that would be interested in helping and they can contact myself or Peter Curran. There is also the opportunity to purchase a ticket online whether you are at home or abroad in conjunction with our friends at Klubfunder by visiting: klubfunder.com/clubs/st_eunans."
The St Eunan's GAA Super House Draw will take place in the Mount Errigal Hotel, Letterkenny on Easter Sunday, 16th April 2017. Other prizes include a one week all-inclusive cruise to the Mediterranean, a weekend for two in Ashford Castle and Country Estate, a one year family membership to the Mount Errigal Leisure Centre, Home Heating Oil, a Love To Spa package for 4 people, a 50″ LED TV, a gift voucher for Evolve Menswear, €1,000 of Fuel from Top Oil and two weeks of sunshine in Portugal.
For more information on the St. Eunan's GAA Super House Draw 2017 contact Peter Curran on 086 385 2973 or Ciaran Haran on 087 967 4068. Details can also be found on the St Eunans GAA Super House Draw on Facebook page and Twitter.