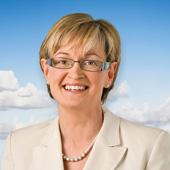 The Fine Gael MEP Mairead McGuinness says she will now seek a re-election as a vice president of the European Parliament.
Last night the Midlands North-West MEP lost the vote to become the EPP candidate for next year's European Parliament presidential elections.
Former EU Commissioner from Italy Antonio Tajani will run for the position.
Ms McGuinness says her work's not over yet: