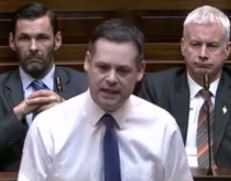 A Donegal Deputy has moved the Civil Law Missing Persons Bill 2016 in the Dáil.
The Bill allows for the appointment of an interim manager of the property of a missing person.
It's undersood that between 7,000 and 8,000 people are reported missing every year in Ireland, almost 20 every day.
Speaking in the Dail last evening, Deputy Pearse Doherty said the bill would allow families avoid what he termed a 'legal limbo' ............