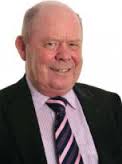 Ireland's longest-serving politician may never be able to give evidence in an alleged assault case, a special sitting of Ballyshannon District Court was told today.
Solicitor Gerry McGovern, representing Mr McEniff , recalled that the 81-year-old is in intensive care in Dublin's Mater Hospital after he was flown home from Gran Canaria in an induced coma following an accident in October.
Judge Paul Kelly, who received a document from the Mater on the condition of Mr McEniff, questioned why he was needed as a witness when he wasn't required by the prosecution.
Former Bundoran Town Councillor Florence McNulty, 56 of The Palace, Main Street, Bundoran, has denied assaulting Garda Helen Munnelly on February 10, 2014.
Her son Joseph McNulty , 34, of Doran Close, Bundoran, and her husband Thomas McNulty, 57, of Main Street, Bundoran, have denied abusive or insulting behaviour on the same date.
Defence counsel Johnnie McCoy said it may be that Mr McEniff could give evidence in three months; that Mr McEniff was an essential witness for the defence and his absence severely affected the defence in its case.
Prosecution and most defence evidence was heard in previous hearings.
Judge Kelly said the alleged incident occurred in a car park outside Bundoran council offices and added "This is an absurd line of objection you are making"
He reserved a decision on the issue of evidence from Mr McEniff to next Friday.