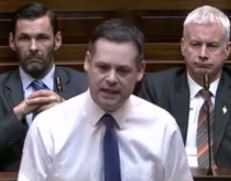 There's been a 22% increase in the number of patients on the General Surgery waiting list at Letterkenny University Hospital, with 981 people on the list in October, up from 803 in April.
There's also been a similar increase in the numbers waiting longer than a year.
Donegal Deputy Pearse Doherty says the figures from the National Treatment Purchase Fund are worrying, but there is no resolution in sight.
He says with elective surgery being cancelled on a regular basis because of the overcrowding crisis, the situation can only worsen until a proper budget is provided.........