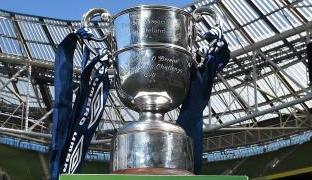 Bonagee United and Cockhill Celtic fly the flag for the Ulster Senior League this coming weekend in the third round of the FAI Umbro Intermediate Cup.
Both are away from home, with Bonagee traveling to face Edenderry on Saturday while Cockhill are in Cork to take on College Corinthians on Sunday.
Edenderry Town v Bonagee United
BONAGEE UNITED captain Aidan McLaughlin says the Dry Arch Park side want to make up for their Intermediate Cup disappointment of last season. Bonagee make the trip to Paddy Maloney Park on Saturday afternoon to face Edenderry Town FC (kick-off 2pm).
Last season, Peter Moran's team lost 4-0 to Killester at this stage, but striker McLaughlin is itching to right the wrongs of 12 months ago as they take on a side third in Senior 1A, the third tier, of the Leinster Senior League.
"It's a massive game," McLaughlin says.
"It's always nice to get into the national stages of the competition and there is a great buzz about the place.
"We got there last year and didnt do ourselves justice which we feel confident we can rectify this weekend.
The Intermediate Cup is the biggest trophy you can win at our level and Letterkenny Rovers proved it last year that there is enough talent in the Ulster Senior League to go far in the competition."
Bonagee had had a promising start to the campaign, but two defeats in the last two games – 3-0 against Cockhill and 2-0 at Fanad on Sunday – have sent them off track again,
McLaughlin says: "The results have been disappointing, but I feel bar the first half against Cockhill we have played well.
"We had three or four great chances at the weekend against Fanad and didn't take them and we were punished for it. I think we have a team who can match anyone in the League. We just need to cut out the mistakes and be more clinical when we do get these chances."
Ten seasons ago, Gareth Wade played in an Intermediate Cup semi-final with Kildrum, but is now manning the nets for Bonagee, while McLaughlin himself has plenty of experience.
McLaughlin says: "We have to step up and put in the perfomances that the club deserves.
"I personally feel we are going in the right direction but it will take time to get up to the standard of the likes of Cockhill. Everything we need is provided to us by the hard work of the commitee in Bonagee. The facilities are first class, the coaching from Peter is first class..
"We would be confident that if we perform to our capabilities we will come away with a good result."
College Corinthians v Cockhill Celtic
PETER DOHERTY says Cockhill Celtic have nothing to fear as they head south for a Sunday morning clash with College Corinthians in the Intermediate Cup.The game at Castletreasure (kick-off 11.30am) sees the table toppers from the Munster Senior League hosts the Ulster Senior League's pace setters and defending champions.
Doherty was this week named as the Watson Menswear Ulster Senior League Player of the Month for October 2016 and says Cockhill must make an impression at national level having swept the boards of late locally.
"Big time, we have to do something in the Intermediate," Doherty says.
"That's the big aim now, to string a few games together. Letterkenny got momentum last year and saw it to the final. We want a good run and make a push in this competition."
Cockhill are two points clear of Fanad United and have a game in hand in the USL while Corinthians are four points clear of Cobh Wanderers in the MSL.
Doherty says: "We have nothing to fear. We're talking about them, but I think they'll be looking at our run too. We're full of confidence. The bookies have them as favourites, but with the players we have and the squad we have, we're confident."
"We'll prepare well. We know they'll be good opponents, but we'll go and play our own game; try and make them worry about us.In terms of mileage it's the worst draw we could have got, but if we play the way we can the rest will take care of itself."
Cockhill hammered Swilly Rovers 7-0 in the last round after Derek Doherty's goal at Leckview Park in round 1 saw Gavin Cullen's Cockhill defeat Letterkenny Rovers, last season's Intermediate Cup finalists.
Peter Doherty says: "It was a pity that we had to meet Rovers because we could both have done well. If we happen to get a run, we won't get many tougher games than that one against Rovers – it was a real battle."
The Cockhill defender has been one of the mainstays of late for Cullen's side as they have won four-in-a-row League titles.
Even with the likes of Cullen, Malachy McDermott, Johnny Havlin and Garbhan Friel sidelined, Cockhill haven't relented this season.
Doherty said: "There has been a lot of success, but we have drive to do more. We don't want to lose our unbeaten run in the League and just want to keep the good form going."