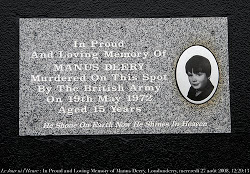 Foyle MLA Raymond McCartney has welcomed an admission from the British Ministry of Defence that 15-year-old Manus Deery, who was shot dead by a soldier in 1972, was innocent.
The Derry teenager was eating chips with friends when he was killed by a single bullet fired from the City's walls. The soldier who fired the shot claimed he was firing at an armed gunman, but no evidence of a gunman has ever emerged.
At a Coronor's court hearing in Belfast yestereday, a basrrister for the British Ministry of Defence and the PSNI acknowledged that Manus Deery was innocent, was not carrying a weapon and that his killing breached guidelines.