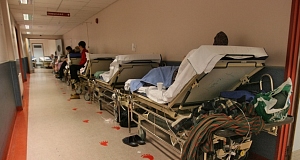 The group representing Nursing Homes says its members can offer up to a thousand beds to the HSE to alleviate overcrowding this winter.
It comes as figures from nurses showed there were almost 500 awaiting admission to hospital yesterday, 32 of them at Letterkenny University Hospital, where the Full Capacity Protocol was implemented yesterday.
Nursing Homes Ireland says there are beds lying empty which could be used to take pressure off hospitals.
However, CEO Tadhg Daly says the HSE has yet to take up the offer.........