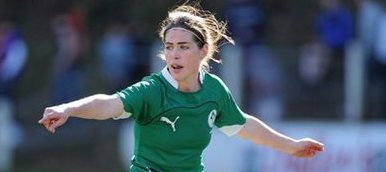 Ireland Women's Rugby head coach Tom Tierney has made ten changes to his side for Saturday's meeting with Canada.
Fahan girl Nora Stapleton who kicked all of Ireland's points against England last week won't feature as she's not included in the match day squad.
Cappry's Larissa Muldoon drops from the starting line up to the replacements for the game at the UCD Bowl while Derry's Katie Norris who featured in the second half gets drafted into the starting second row.
Two of the ten coming into the side are earning their first caps, with debuts in the pack for Nichola Fryday and Anna Caplice.
IRELAND WOMEN'S Team & Replacements (v Canada Women, Women's November Series, UCD Bowl, Saturday, November 19, kick-off 2pm):
15. Mairead Coyne (Galwegians/Connacht)
14. Niamh Kavanagh (UL Bohemians/Munster)
13. Nicole Fowley (Galwegians/Connacht)
12. Sene Naoupu (Aylesford Bulls)
11. Alison Miller (Old Belvedere/Connacht)
10. Nikki Caughey (Railway Union/Ulster)
9. Mary Healy (Galwegians/Connacht)
1. Fiona Hayes (UL Bohemians/Munster)
2. Zoe Grattage (Highfield / Munster)
3. Fiona Reidy (UL Bohemians/Munster)
4. Katie Norris (Blackrock/Leinster)
5. Nichola Fryday (Tullamore/Leinster) *
6. Ciara Cooney (Railway Union/Leinster)
7. Anna Caplice (UL Bohemians/Munster) *
8. Paula Fitzpatrick (St. Mary's/Leinster) (capt)
Replacements:
16. Leah Lyons (Highfield/Munster)
17. Lindsay Peat (Railway Union/Leinster)
18. Ailis Egan (Old Belvedere/Leinster)
19. Elaine Anthony (Highfield/Munster)
20. Chloe Pearse (UL Bohemians/Munster)
21. Larissa Muldoon (Railway Union)
22. Jackie Shiels (Old Belvedere/Leinster)
23. Claire McLaughlin (Cooke/Ulster)