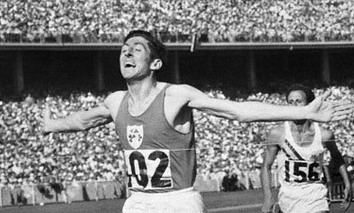 Ronnie Delaney has been confirmed as the special guest for Letterkenny Athletic Club's annual dinner and awards night which takes place in Arena 7 on Friday, November 18th at 8 pm.
Ronnie Delaney created history when he won gold in the 1,500 metres at the Olympic Games in Melbourne on December 1st, 1956. He etched his name into Ireland's sporting folklore when he made his break for home on the final bend that fateful day 60 years ago. In doing so, he passed Landy, was chased by the German, Klau Richtzenhain, and won in style when posting a time of 3 minutes, 41.2 seconds.
A native of Arklow, Ronnie Delaney won a bronze medal, also in the 1,500 metres, at the European Championships in Stolkholm in 1958. He retired in 1962 and was granted the freedom of the city of Dublin in 2006.
Speaking ahead of the Letterkenny AC event, Danny McDaid, one of the main organisers, said the club is delighted to have secure the Olympic champion as their special guest.
"We tried to get him to come to Letterkenny for the official opening of the track at the Aura Leisure Centre in 2013, but he was unable to make the trip because he was in America. We tried him a second time, but again the dates didn't suit. So I suppose it's a case of third time lucky on this occasion," commented Danny.
"We have always managed to secure a big name for the awards night, and I really am looking forward to meeting up with Ronnie whom I've got t know well over the years.
"Ronnie is a legend in sporting terms and we hope he enjoys his weekend in Letterkenny," the double Olympian added.
"It has been another hugely successful year for Letterkenny AC and it's only right we meet up and celebrate our achievements. Ronnie will fly in to Donegal Airport next Thursday and will be picked up by a car supplied by Diver's Hyundai in Letterkenny. He will stay at the Radisson Blu Hotel in Letterkenny. The hotel is sponsoring his stay and Diver's are providing the courtesy car free of charge. We are extremely grateful to both businesses for their generosity," Danny added.
Next weekend's event in Arena 7 will get underway at 8 pm, with Martin Gormley acting as MC. Tickets are priced 20 euro, with tickets for couples priced at 35 euro for the three-course meal.
To book a ticket contact Danny on 087 6907945.