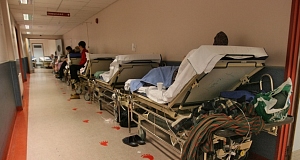 420 people were waiting on beds at hospitals across the country this morning, 16 of them in Letterkenny University Hospital.
The Irish Nurses and Midwives Organisation says 314 people are on trolley's while a further 106 are in overflow areas of wards.
In Letterkenny, 10 of the 16 patients waiting this morning were on trolleys in the Emergency Department.