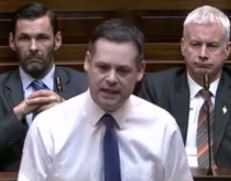 It's emerged that some children in Donegal are facing waits of more than 15 months to receive an appointment with a Psychiatrist.
In answer to a Dail question, Deputy Pearse Doherty has been told that there are currently 129 minors waiting for an appointment with Donegal Mental Health Services Psychiatrists, eight of whom have been on the list for more than 15 months.
Describing the figures as 'appalling', Deputy Doherty said he has now tabled questions about staffing levels, in a bid to determine what resources are needed in Donegal...........