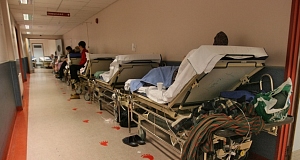 Over 400 people were waiting on hospital beds across the country this morning, 12 of the at Letterkenny University Hospital..
Figures from the Irish Nurses and Midwives Organisation this morning showed 313 people on trollies and a further 96 in overflow areas of wards.
Of the 12 awaiting beds in Letterkenny this morning, 11 were on trolleys in the emergency department.