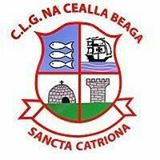 Donegal Senior Championship Relegation Play-off Final replay result: Killybegs 2-13 (19) v (8) 1-06 Glenfin
Killybegs will be playing senior football next season after winning this play-off final today.
They won by 12 points in the replay on Saturday afternoon and it means Glenfin will now be relegated to intermediate football.
The first match on October 15 ended with both sides each scoring 14 points: Glenfin 1-11 (14) v 2-08 (14) Killybegs.
In today's game at O'Donnell Park in Letterkenny, it was Killybegs who scored first thanks to man of the match Hugh McFadden on two minutes. \
Jon Ban then doubled their lead, before Killybegs stretched their advantage to three on nine minutes without response from Glenfin.
Glenfin finally registered a point when Michael McGlynn knocked one over on the 24th minute of the first-half, during which Glenfin kicked four wides.
On 31 minutes, Evan Broderick scored a goal for Killybegs, just like he did in the original play-off, to underline Killybegs' early dominance.
At half-time, Killybegs were 10 points clear: Killybegs 1-08 (11) v 0-01 (1) Glenfin.
Glenfin got their second point of the game in the second minute of the second half, but Killybegs' Broderick responded with two of his own and team-mate Christopher Murrin got another.
Hugh McFadden scored Killybegs' second goal to quell any hopes of a late Glenfin fightback by making the score: Killybegs 2-13 (19) v 0-04 (4) Glenfin.
There was only four more points in it and they all fell to Glenfin, but it wasn't enough to stop Killybegs record a convincing victory and guarantee their senior football status.