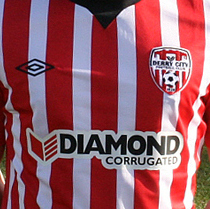 Derry City need just one more victory to secure a place in next season's Europa League.
A win this evening against Bohemians at the Brandywell will guarantee fourth place and the final european qualifying spot.
Derry haven't played in Europe since 2013 but they also haven't won a league fixture at the Brandywell since July.
Speaking with derrycityfc.net, Manager Kenny Shiels says "It's a good positon to be in and it makes it a bigger game, We're fighting for something right up to the end because first of all we want to win to get into Europe and our next objective is then to get third. It has been massive progress and we can't deny that. We're delighted with what has happened this season. The season has been a season of progress and player development and we want to keep that up. It's important to improve with each game and every season."
Shiels is equally determined to get a win in front of the Brandywell fans, something Derry City have been unable to do since beating Longford Town 4-0 in July. Since then, six games have passed without a Brandywell victory, and Shiels is eager to change that statistic as soon as possible.
"If you look at our home performances, we have dominated most of them, and I don't think anyone can argue with that, but so often we have ended up with a draw," he reflected. "So we're going out to give our supporters something back on Friday night, we've got to do that for them because they have been very loyal to us and we want to give them something back. We've been so unfortunate but we've got to go and win it for them because they travel the country with us and we've had bad luck at home which has been just incredible."