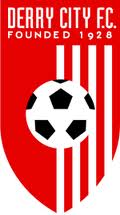 The Derry City football club chairman has expressed his disappointment and frustration at the incident following the Derry City versus Dundalk FAI Cup game on Tuesday night.
It has been reported that a young Dundalk supporter suffered head injuries while extensive damage was also caused to a supporters bus.
Mr. Philip O'Doherty says a meeting is taking place tomorrow with political representatives to consider preventative measures so that similar incidents can be avoided in the future.
In a statement the Derry City chairman said that given the great atmosphere and feeling of safety inside the ground, it makes it all the more shocking and unacceptable that something like this could have happened.
The club has been told that these attacks were carried out by a group of youngsters and children. There is some suggestion that this gathering was prearranged.
The club has been in regular contact with Dundalk to express their disgust and to inquire after the health of their young fan.
He said that these events and this negative coverage are very prejudicial to the club, fans and city.
Therefore he believes there is a responsibility to ensure that a group of youngsters and children do not undermine the enjoyment of fans and the good name of the City.
A meeting has been arranged tomorrow with local MLAs and councillors to discuss their views and guidance as to how the Club responds to these events.
Concluding Mr. O'Doherty said they will continue to keep fans fully informed of any developments.