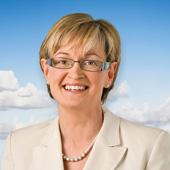 The Plight of Donegal's Tillage farmers has been raised in Europe this week but there will be no help from the EU at least in the short term.
MEP Mairead McGuinness raised the issue after a recent visit to Donegal to see first hand the current difficulties in the tillage sector particularly following recent weather.
Hundreds of acres remain unharvested after 28 days of rainfall in Donegal in September alone.
Ms McGuinness is urging the government to respond to the crisis as their are no measures available in Europe currently to help: