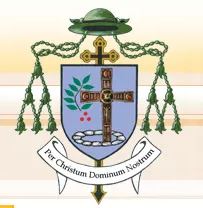 The Catholic Bishop of Clogher Liam MacDaid has resigned due to ill health.
Pope Francis says he's accepted the resignation of the Bishop.
The 71 year-old cleric, originally from Bundoran has held this position since 2010.
The Diocese of Clogher includes the counties of Monaghan, Fermanagh and portions of Tyrone, Donegal, Louth and Cavan.
A pastoral letter written by Bishop MacDaid will be read at all masses in the Clogher diocese during the weekend masses.
Bishop Liam MacDaid was ordained on 15th June 1969 and on May 6th, 2010, the then Fr MacDaid was appointed as the Bishop-elect of Clogher.
Fr MacDaid was ordained Bishop on July 25th, 2010 in St Macartan's Cathedral, Monaghan.
The future governance of the diocese is now assumed by the College of Consultors which will meet in the coming days to elect a Diocesan Administrator who will lead the diocese, with limited powers, until a new bishop is appointed by Pope Francis.