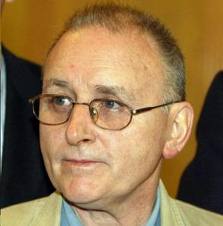 Gerry Adams has confirmed he going to sue the BBC
The Sinn Féin president said he specifically and categorically denied allegations, made in a recent BBC Spotlight documentary, that he approved the killing of IRA double agent Denis Donaldson.
The claim was made on a recent BBC Spotlight programme by an anonymous man who claimed he was also a paid British spy in the IRA.
55 year old Dennis Donaldson, a Sinn Féin official and close colleague of Mr Adams, was shot dead at an isolated cottage near Glenties in Co Donegal in April 2006.
He was killed months after admitting, in 2005, that he had worked as an M15 agent for over 20 years. Donaldson had worked for Sinn Féin as an administrator at Stormont and was a former IRA member.
Adams confirmed to TheJournal.ie that he will be taking legal action against the UK broadcaster over contentions made in the programme.
In a statement, Mr Adams confirms he has been consulting with his lawyers, and they will now be taking action against the BBC in relation to what he termed the totally false allegation contained within the BBC Spotlight broadcast.
He would not comment further on what the basis the action would be.
The BBC has said it stands by its journalism.