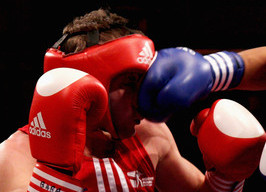 On Wednesday 2nd of November , ten Donegal boxers and seven officials will travel to America for a major boxing tournament in the Clarington Hotel Essington Philadelphia.
The Donegal party will join up with boxers from Derry, Tyrone and Monaghan and will spend six days in the USA.
Dan Mullarkey of the "Must Box" gym in Philadelphia has been busy putting thE visit together for the past eight weeks and former Dunfanaghy boxer Brendan Ward who has been residing in the US for many years is also one of the event organisers.
Philadelphia is a city with lots of Donegal connections and many of the boxers families will also be traveling with the Donegal team to meet up with relatives .
John Gallagher of the Two Castles Boxing Club in Newtownstewart has been instrumental in setting up this major event for the Irish selection, as John worked and lived in the US for many years.
Four Donegal coaches will travel with the squad, Eddie and Joe Harkin (Dunfanaghy), Jim Mc Cole (Dungloe), Gerard Keareney (Raphoe) and Dominic Mc Cafferty (Convoy) while Michael Mc Dermot will travel as Referee/Judge and the Donegal team will be accompanied by the Co. Board President Peter O'Donnel (Raphoe)
The fight contest will take place on Friday 4th November.
The bouts for Donegal v Philadelphia:-
Odhran McGinley (Dunfanaghy) vs John Pulley
50kg
Oisin Wallace(Dungloe) vs Lemar Smith
50kgs
Ciara Craig (Dunfanaghy) vs Candice Carter
48kgs
Dennis Hafferty (Raphoe) vs Ryshine Collins
59kgs
Odhrán Mc Ruari(Dungloe) vs Kyree Lyonns
56kgs
Bryan Mc Namee(Convoy) vs Christian Coakley
65kgs
Sean Kelly (Dunfanaghy) vs Deader Houston
48kgs
matthew McCole (Dungloe) vs Joseph Adarno
60kgs
Orin McDermott (Raphoe) vs Dan Mullarkey
65kgS
Mark McCole(Dungloe) vs Marcel Rivers
69kgs