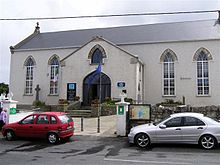 A judge has said there's been "substantial progress" in probation and social reports on a deaf man who admitted harassing a doctor and his family.
Judge Paul Kelly was asked at Dungloe District Court to further adjourn the case.
65-year-old John McGrotty has admitted harassing and stalking Dara and Eimear McEniff and their family at Pairc Naomh Anna, Chapel Rd, Dungloe, between July 7, 2014 and December 11, 2014.
He also admitted harassing and stalking Eimear McEniff at St Peter's Tce, Dungloe, between August 1, 2013, and July 24, 2014.
At one hearing earlier this year Judge Kelly banned McGrotty from Dungloe and ordered him to stay with his daughter in Dublin when he heard he had breached an order to stay away from the McEniff family.
The judge later allowed him to return to his own home in Dungloe when told there was improvement in McGrotty's behaviour.
At the latest hearing defence solicitor Patsy Gallagher asked for a further adjournment when another historic summons against McGrotty would be heard.
Inspector Dennis Joyce said: "Things are going well, but there is work still to be done."
The case was adjourned to Letterkenny District Court on October 3.