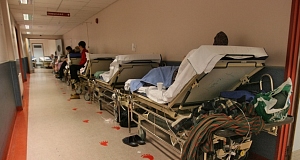 Senior management in the HSE are being urged to show clear leadership and do the right thing for patients.
The Executive's Winter Initiative will see 55 extra acute beds at five hospitals across the country which are suffering severe overcrowding. Letterkenny University Hospital is not included.
The Irish Association for Emergency Medicine says given 1600 beds were lost from the system during recent years - this is mere drop in the ocean.
It comes as the number of patients awaiting admission at Letterkenny University Hospital today rose to 15, 13 of them on trolleys in the emergency department.
Dr Fergal Hickey is a Spokesperson with the IAEM and Consultant in Emergency Medicine at Sligo University Hospital............