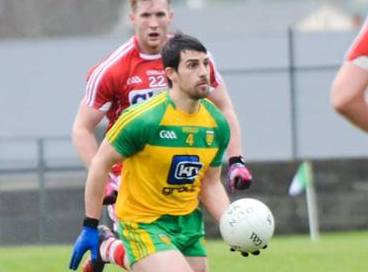 This was his third award on the trot, and he is catching up on Karl Lacey and Michael Murphy who have four and five awards respectively.
Meanwhile, speed machine Eoin McHugh was picking up his first award after a great season.
His searing pace and direct running has been opening up defences all over the country.
Speaking after the awards three -time winner Ryan McHugh said he was delighted to pick up his third gong but was disappointed that Donegal did not win anything this year.
Ulster Championships Tyrone took home eight All Stars.
Ronan McNamee, Cathal Carron, Tiernan McCann, Colm Cavanagh, Mattie Donnelly, Niall Sludden, Peter Harte, and Sean Cavanagh were all named.
It was a 9th All Star for Moy man Sean Cavanagh while Peter Harte was named Player of the Year
2016 Irish News Ulster All Stars
Goalkeeper: Raymond Galligan (Cavan)
Right-corner back: Paddy McGrath (Donegal)
Full-back: Ronan McNamee (Tyrone)
Left-corner back: Cathal McCarron (Tyrone)
Right-half backs: Ryan McHugh (Donegal)
Centre-half back: Conor Moynagh (Cavan)
Left-half back: Tiernan McCann (Tyrone)
Midfielder: Colm Cavanagh (Tyrone)
Midfielder: Mattie Donnelly (Tyrone)
Right-half forward: Eoin McHugh (Donegal)
Centre-half forward: Niall Sludden (Tyrone)
Left-half forward: Peter Harte (Tyrone)
Right-full forward: Tomás Corrigan (Fermanagh)
Full forward: Sean Cavanagh (Tyrone)
Left-full forward: Conor McManus (Monaghan)