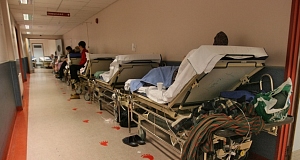 Latest figures show over 6,000 patients spent time on trolleys or in ward overflow areas while waiting for beds in Irish hospitals last month.
The Irish Nurses and Midwives Organisation has this morning released it's latest survey of Trolley Watch figures for the month of August.
At Letterkenny University Hospital, there were 128 people awaiting admission for a period in August, down from 235 the previous year, a fall of nearly 46%.
That's a much steeper fall than the national average of 6%.