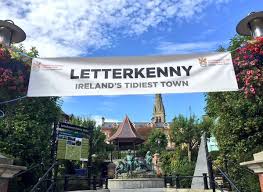 Sweet wrappers are the most common form of litter on the streets of Ireland.
A new survey by Irish Business Against Litter says fast food wrappers, cigarette butts and chewing gum are among the most prevalent forms of rubbish around the country.
While nearly all of Ireland's main towns are now clean, pockets of major cities continue to be litter black spots particularly in neglected areas.
Letterkenny, the current holder of the National Tidiest Town title, is ranked in joint 29th place, and deemed to be "clean to European norms".
Letterkenny Town Park, Main Street and Port Road are praised, but the N14 Strabane Road is criticised.
******************************
Excerpt from initial press release -
The An Taisce report on Letterkenny stated: "Letterkenny Town Park deserves a special mention as it was not just clear of litter but it is an extensive area which has been very carefully presented and maintained.  It is great to see such a wonderful resource so well respected.  Port Road was a nicely laid out road with some striking sculpture and the Upper and Lower Main Streets were in very good order with substantial planter boxes and hanging baskets adding to the overall atmosphere.  N14 Strabane Road was the most heavily littered of those surveyed in Letterkenny – it was certainly cleaner in parts where a 'Clean Up' appears to have taken place but the remainder had a steady stream of a wide variety of litter."