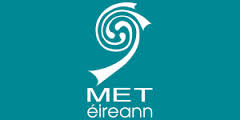 Met Eireann assessment of the weather for the summer, not surprisingly, was 'Mild, wet and windy.
Donegal had its warmest day for 13 years, the most dull days in Ireland, the strongest wind but slightly less rain than normal.
Figures for last month show that in Donegal, two of the warmest August days since 2003 were recorded - the top temperature registering was 23.9°C.
Compared to long term averages - Donegal was half a degree warmer than expected with 94% of the expected rainfall falling.
Donegal topped the list when it comes to dull days, these classed as there being less than half an hour sunshine - 8 such days were recorded at Malin matched only by the Valentia Observatory in Kerry.
It was windy in the northwest too - the month's nationwide highest gust and 10-minute wind speed were both reported on the 7th of August at Malin Head
The highest gust was 93 km/h, while the highest 10-minute wind speed was 69km/h - both the highest for August in Donegal in seven years.