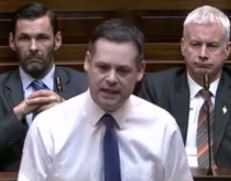 Deputy Pearse Doherty has slammed the latest waiting list data for In-patient and Day case treatment at Letterkenny University Hospital.
He says it shows that despite the introduction of maximum permissible waiting times last year, the hospital is still failing to reach patient waiting targets.
The figures, which were provided to Deputy Doherty via Parliamentary Question, reveal that there are currently 56 patients awaiting treatment who have been on waiting lists at the hospital for more than 15 months: the maximum permissible waiting time set down by the Department of Health.
The two departments with the longest waiting lists are Orthopaedics and Urology with 20 and 16 patients waiting for more than 15 months respectively.
Commenting on the figures, Deputy Doherty said that while Government continues to spin the line that overall performance across all acute public hospitals combined equated to 95% achievement for the 15 month maximum permissible wait time for Day case and In-patient care, clearly Letterkenny University Hospital is struggling to reach these waiting targets.
He says he intends to raise these unacceptable waiting times with the Minister in the Dáil as soon as sittings resume later next month.