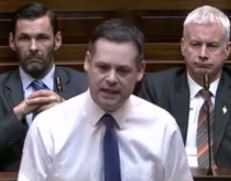 Sinn Féin's insisting an internal memo for Michael Noonan shows it is unfair and not affordable to abolish the Universal Social Charge.
That's despite claims from the Department of Finance that the memo has been made redundant by the new government.
Pearse Doherty says an internal memo, outlining the extra taxes needed if USC is abolished, proves the charge is too expensive to lose.
The Department disagrees - and says the charge will be phased out gradually over five years.
But Deputy Doherty says the briefing paper specifically says how unfair that would be: