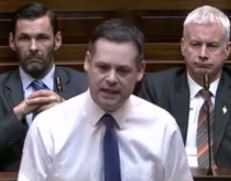 Deputy Pearse Doherty has described children's psychology services in Donegal as deplorable.
This follows confirmation from the HSE that over 120 children are awaiting psychological assessment in the county.
22 children have been on the waiting list since last year and another 5 children have been waiting to be seen since 2014.
Figures released by the HSE shows that although there is a backlog, the number of appointments is down since last year.
Deputy Doherty says that this is just another blow for children's services in Donegal ...