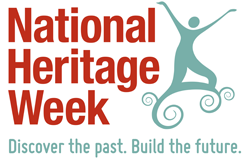 Over 18 hundred events are taking place this week as part of National Heritage Week.
It begins in Donegal today with a guided tour of St. Connell's Museum and Heritgae Centre.
At the Donegal County Museum an exhibition opens which offers a glimpse into everyday life in the county during 1916.
The theme of this years event is '100 years of heritage' and more than 400 thousand people are expected to take part.
National Coordinator Niamh Donnellan says there's something for all the family: