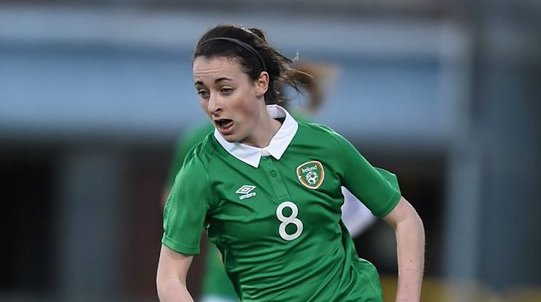 Republic of Ireland Women's National Team manager Sue Ronan has named a squad of 22 players for upcoming training camp in Wales.
The camp will include two challenge matches on Friday, 19th and Sunday, 21st August against Wales with the squad mainly consisting of home-based players.
The squad includes first call-ups for Donegal players Roma McLaughlin and Amber Barrett.
Roma McLaughlin, was part of the Ireland Women's Under 17 squad for the 2015 UEFA European Championships in Iceland.
WNT manager Sue Ronan wants to use the training camp as a chance to assess the young talent progressing through the age groups and home-based talent.
Ronan said: "There is no doubt we have many exciting players in our underage squads who I feel have the ability to be the future of the national team. This camp gives me and my coaching staff the perfect opportunity to get a closer look at our young players and assess where they're at in their development.
"The step up to senior international football is a huge one so we need to be patient with these young girls. However the camp, as well as the two challenge matches against Wales, means they can experience the level without any pressure, while training and playing alongside experienced players like Niamh Fahey, Karen Duggan, Stephanie Roche & Julie-Ann Russell will help immensely with their development.
"The games will also give me the opportunity to have a closer look at other home-based players like Noelle Murray & Jetta Berrill who have done really well at club level.
"I'm really looking forward to the camp and to see whether any of the players will be able to force their way into the squad for the upcoming game against Portugal at Tallaght Stadium in September."
Full squad
Goalkeepers: Niamh Reid-Burke (Shelbourne Ladies FC), Grace Maloney (Reading FCW)
Defenders: Jetta Berrill (UCD Waves), Meabh De Burca (Galway WFC), Sophie Perry (Reading FCW), Niamh Fahey (Chelsea WFC), Chloe Moloney (Galway WFC), Sadbh Doyle (Salthill Devon), Niamh Prior (UCD Waves)
Midfielders: Siobhan Killeen (Shelbourne Ladies FC), Karen Duggan (UCD Waves), Tiegan Ruddy, Niamh Farrelly, Roma McLaughlin (Peamount United WFC), Saoirse Noonan (Cork City WFC), Emma Beckett (London Bees), Julie-Ann Russell (UCD Waves), Katie McCabe (Arsenal Ladies)
Forwards: Leanne Kiernan, Noelle Murray (Shelbourne Ladies FC), Stephanie Roche (Sunderland WFC), Amber Barrett (Peamount United WFC)