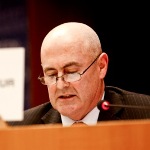 A Donegal County Councillor is welcoming plans for the Stranorlar Sewage treatment plant to be upgraded.
Earlier in the summer, Irish Water lodged a planning application with Donegal County Council for the plant to be upgraded with a decision expected at the end of September.
Should the work be given the green light, it is hoped that it will address compliance issues, provide increased capacity, and lessen impacts on receiving waters.
Local Councillor Patrick McGowan a start date next year is possible if planning permission is obtained............